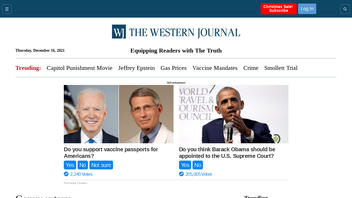 Have 45,000 people died as a result of receiving the COVID-19 vaccine? No, there's no evidence of that: The number is a guesstimate from an anonymous "whistleblower" who relied on data from the Vaccine Adverse Event Reporting System (VAERS), which is a collection of unverified reports. She did not provide the statistical model for calculating her claim.
The claim appeared in an article (archived here) published by The Western Journal on December 15, 2021. Titled "Top Cardiologist: Game-Changing Study Shows COVID Vaccines Are More Dangerous Than Virus Itself," the story opened:
As many as 45,000 people may have died from the mRNA shots being given to halt COVID, according to prominent physician Dr. Peter McCullough.
Users on social media saw this title, description and thumbnail:
The doctor who literally wrote the book on cardiology says teens are at greater risk from vaccines than from COVID.
The article was based on an interview that McCullough did on the DarkHorse Podcast on December 6, 2021. You can watch the whole interview here. Just after the 21-minute mark, McCullough said:
There is very good work done with the CMS [Centers for Medicare and Medicaid Services] data suggesting the underreporting factor on this is about five. So if you take 9,000 times five, we currently are at some number that is, you know, 45,000, 50,000 -- and that's conservative. It could be greater than that. That's underreporting, by the way, via projections from CMS where we know someone's died.
McCullough was talking about purported deaths related to the COVID vaccine and was apparently referencing figures reported by an anonymous whistleblower as part of a July 2021 lawsuit. Lead Stories has written about the suit and the woman's claim before. See here for that story, in which we found that she did not document 45,000 deaths; she guesstimated that number based on unverified reports in VAERS.
The anonymous whistleblower explained her claim as follows:
It is my professional estimate that VAERS (the Vaccine Adverse Event Reporting System) database, while extremely useful, is under-reported by a conservative factor of at least 5. On July 9, 2021, there were 9,048 deaths reported in VAERS. I verified these numbers by collating all of the data from VAERS myself, not relying on a third party to report them. In tandem, I queried data from CMS medical claims with regard to vaccines and patient deaths, and have assessed that the deaths occurring within 3 days of vaccination are higher than those reported in VAERS by a factor of at least 5. This would indicate the true number of vaccine-related deaths was at least 45,000.
But VAERS cannot be used to precisely calculate vaccine effects. It's a passive reporting system. Anyone can file a report. The reports are not verified and are not sufficient evidence to establish whether an adverse event, such as a death, was caused by a vaccine.
The website for VAERS makes clear the system's uses and limitations. To access the data, users must confirm that they understand the statistical limitations. The VAERS site reads:
When evaluating data from VAERS, it is important to note that for any reported event, no cause-and-effect relationship has been established. Reports of all possible associations between vaccines and adverse events (possible side effects) are filed in VAERS. Therefore, VAERS collects data on any adverse event following vaccination, be it coincidental or truly caused by a vaccine. The report of an adverse event to VAERS is not documentation that a vaccine caused the event.
The headline of The Western Journal article have changed since this fact check was written, but not in a way that changed its claim.
Lead Stories reached out to McCullough to ask about the article's claims. We will update this story, as appropriate, if he responds.