Hoax Alert
Fake News: Covfefe Is NOT The Russian Translation For The Phrase I Resign
This morning Donald Trump amazed the world with a tweet he accidentally sent out mid-composition, giving the world the new word 'covfefe':
Despite the constant negative press covfefe

-- Donald J. Trump (@realDonaldTrump) May 31, 2017
It immediately went viral with thousands of people piling on and inventing jokes about the new word.
One of the most popular ones was this one from Kristina Wong, claiming 'covfefe' was the Russian translation for 'I resign', accompanied by a fake screenshot from Google Translate:
This is #covfefe translated from Russian. pic.twitter.com/1Im7ZzLO0Y

-- Kristina Wong ❄️ (@mskristinawong) May 31, 2017
Interestingly enough the screenshot actually claims 'Covfefe' is English and says 'I resign' is the Russian term.
However, as you can easily verify for yourself, Google Translate does not know any Russian term 'covfefe' so we are going to have to label this as fake covfefe: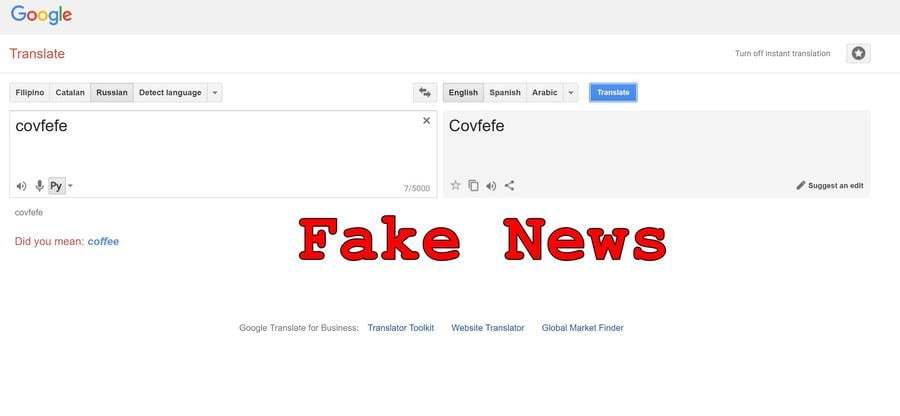 Want to help stop this fake news from spreading?


Click this link to copy it to your clipboard
Then click here if you have Facebook or click here if you have Twitter to see who is sharing it (it might even be your friends...) and leave the link in the comments.