Hoax Alert
Fake News: First Catholic Pope NOT Found By Archaeologists, NO Evidence For Non-Existence Of Jesus
A site by the name of "Core Spirit" published an article titled "JESUS NEVER EXISTED: ARCHAEOLOGISTS MAKE A SHOCKING DISCOVERY" which also appeared almost verbatim on NeonNettle under the title "Archaeologists: Remains Of The First Catholic Pope Prove Jesus Never Existed". An older version is also available on DiscloseTV under the title "ARCHAEOLOGISTS UNEARTHED THE FIRST POPE! WHAT THEY FOUND MAY PROVE THAT JESUS NEVER EXISTED". The article starts:
The remains of the first Catholic pope have been exhumed by archaeologists and have been remarkably well preserved, as well as turning up some secrets the church would rather have stayed buried.

The mummy of Pope St. Pius I is one of the best preserved in the history of mankind. His corpse was not embalmed, it was mummified naturally for a period of about 1,700 years.

His remains are considered a true discovery for science, because even though during life he suffered from cardiovascular diseases, gallstones, gout, diabetes, caries and tuberculosis, these organs preserved very well.

The man thought to be the first pope is believed to have died around 155AD and was initially buried in the cathedral in the city of Aquileia.

The cathedral was knocked down, and the tomb opened in 1789 before being transferred to a chapel for reburial in 1875.

The remarkable preservation is thought to have been due to a combination of the large number of humidity and plants inside the tomb and the fact that he was buried in the winter months, allowing less decomposition to take place in the first few months that the body was buried.
The articles go on about documents supposedly found with the body that would cast doubt on the history and tenets of Catholicism if they were proven to be genuine.
It is quite unlikely these documents are proven to be real since most of the story seems to consist of obvious falsehoods. First of all, according to Catholic tradition the first pope is Saint Peter, not Pius I. Aquileia cathedral is still standing today. And the picture in the story is not "Pius I" but Bishop of Lund Peder Winstrup who died in 1679 and was mummified in the crypt of a Swedish cathedral (and he was not even Catholic but Lutheran).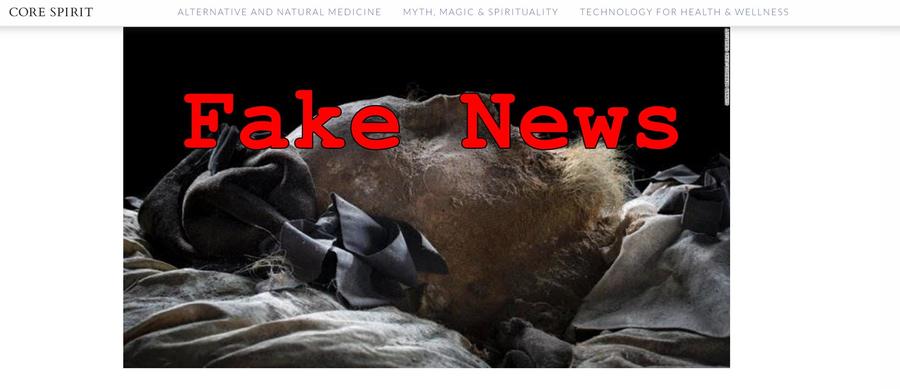 Now, to be perfectly clear this does not prove or disprove anyting about Jesus. But personally we wouldn't put too much trust in an article that starts off with so many verifiably false facts and untruths and we wouldn't base any life-altering decisions on such an article.
Despite all the obvious fiction in the story, thousands of people are liking and sharing it anyway as the Trendolizer graph at the end of this article shows. If you are afraid they are taking this fraudulent article way too seriously, send them here for a dose of reality.
Want to help stop this fake news from spreading?


Click this link to copy it to your clipboard
Then click here if you have Facebook or click here if you have Twitter to see who is sharing it (it might even be your friends...) and leave the link in the comments.