Hoax Alert
Fake News: Oscar Pistorious Did NOT Commit Suicide in Prison
A South African fake news website published an article titled "BREAKING: Oscar Pistorious commits suicide in Prison". The article opened:
PRETORIA - South African Paralympic gold medallist, Oscar Pistorious hanged himself in his prison cell where he was serving a jail term for the murder of Reeva Steenkamp, prison officials said on Saturday.
The fake news website actually managed to misspell the name "Oscar Pistorius" but despite this he hoax article was such a big hit that the site in question (TheTribune) went down for a while. Meanwhile, no mainstream news sources in South Africa have confirmed the story and at least one local news site reports having spoken to Carl Pistorius, Oscar's brother, who claimed nothing of the sort was known to the family.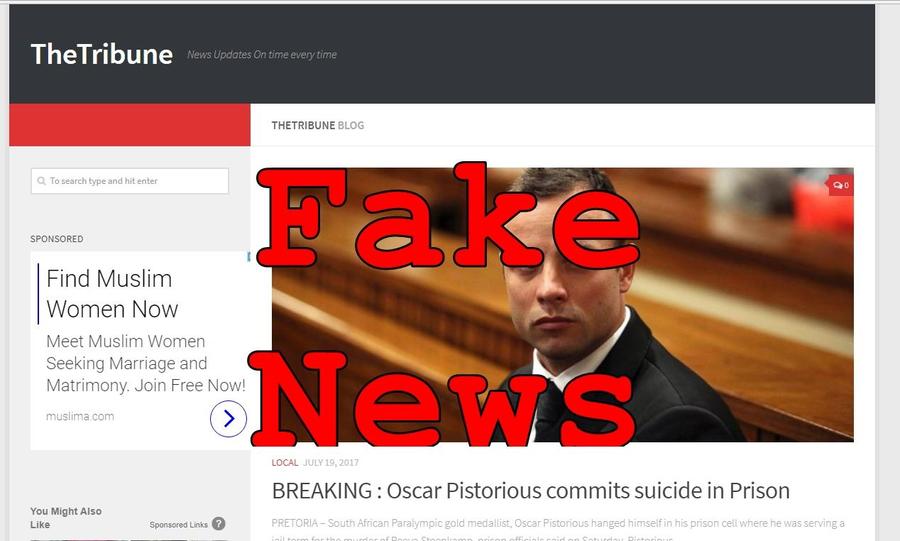 So it is pretty safe to say this is fake news. If you see any Blade Runner fans who are worried about Oscar, do send them here to be reassured. Despite the original site being down the story is being shared around widely as you can see in the Trendolizer graph at the end of this article. Let's put an end to it.
Want to help stop this fake news from spreading?


Click this link to copy it to your clipboard
Then click here if you have Facebook or click here if you have Twitter to see who is sharing it (it might even be your friends...) and leave the link in the comments.