Hoax Alert
Fake News: Snopes Owner Did NOT Buy A New Ferrari
Fake news website Huzlers.com posted an article titled "Snopes Owner Raises Over $600k In GoFundme Scam; Buys A New Ferrari". It opens:
CALIFORNIA - After Snopes.com founder and owner David P. Mikkelson started a crowd-funding website to raise money for the companies' apparent financial troubles, having raised more than $600k within 24 hours, it is being reported that David was spotted purchasing a brand new $300k+ Ferrari at a California Fiat dealership.
While it is true that Snopes.com is having some legal and financial difficulties that led them to set up a fundraiser, which we reported on earlier, it is definitely not true that David Mikkelson bought a Ferrari with the money.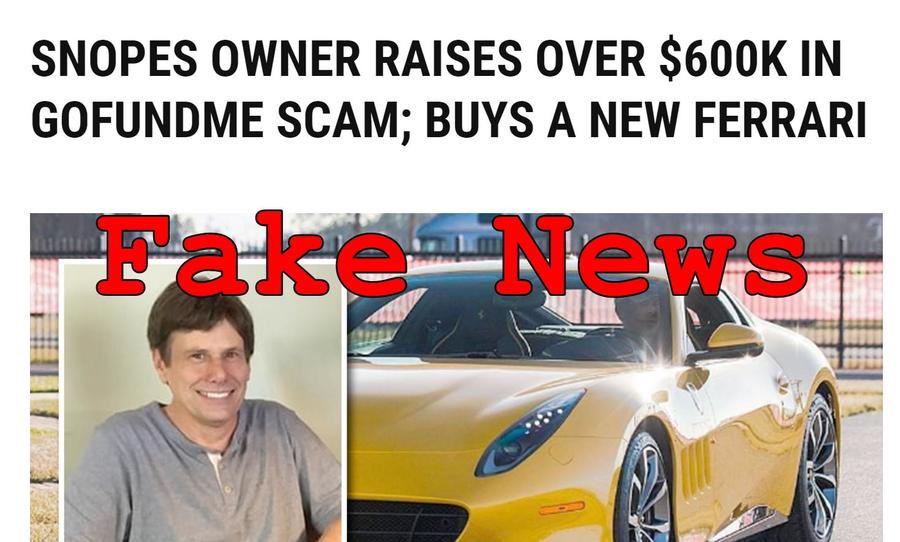 How do we know this? Because Huzlers.com sort of admits it at the end of the article, where they first quote a supposed donor:
"Even though David is a mess, I love Snopes, It's very helpful when they debunk crazy stories i come across from sites like Celebtricity and Huzlers. But i didn't think he would finesse us and buy himself a Ferrari, oh well", finished Gary.

We are obviously counting on Snopes attempting to debunk this story, but can we really trust Snopes?
Cute.
They also have a disclaimer on each page of their website:
Huzlers.com is the most infamous fauxtire & satire entertainment website in the world. If it's trending on social media you'll find it here!
It will be interesting to follow the Trendolizer graph at the end of this article to see if this fake story gets any traction. Who knows: maybe Snopes might even get around to debunking it at some point. As usual they are late to the party again. And since they haven't really bought that Ferrari maybe they can use some of the money from the fundraiser to invest in some software to quickly detect trending fake news ;-)
Want to help stop this fake news from spreading?


Click this link to copy it to your clipboard
Then click here if you have Facebook or click here if you have Twitter to see who is sharing it (it might even be your friends...) and leave the link in the comments.