Hoax Alert
Fake News: Zimbabwe's Former President Robert Mugabe Did NOT Die at 94
A fake news website by the name "Global News" using the domain name glonews360.com has reposted an old hoax article titled "BREAKING: Zim's former Prez Robert Mugabe dies at 94" (archived here) on March 5th 2018 which opened:
HARARE, ZIMBABWE - Former Zimbabwean long serving president Robert Mugabe died peacefully today at his home in Harare, according to a statement from his family. The cause of death was not given.

A statement from Mugabe's wife, Grace Mugabe, said: "My family joins me in sharing the difficult news that Robert Gabriel Mugabe, our beloved husband, father, grandfather and great-grandfather has passed away at 94 years of age. His life was filled with love of God, his family and his country."

President Emmerson Mnangagwa issued a statement saying that he and first lady Auxilia Mnangagwa were "greatly saddened" to hear of the former president's death.
There is no such statement and the official Twitter account of President Emmerson Mnangagwa hasn't made any mention about the news either. The story did not appear in any other respectable news outlets. A few hours later a site named "Whisper Eye" posted an exact copy of the article (archived here) but that site exists just six months and only has 175 followers on Twitter at the time of writing, not exactly the hallmark of a trustworthy media organisation.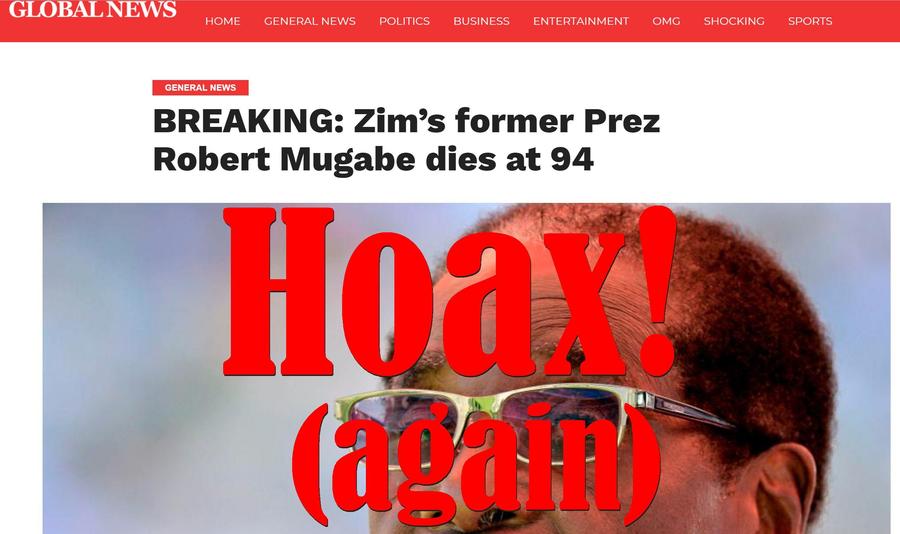 Funnily enough the exact same article (archived here) also appeared in December 2016 on texas-express.com and that story got promoted with a post (archived here) on fox-news24.com (which has nothing to do with the real Fox News).
As we pointed out in a previous article, Glonews360, Texas Express and Fox News24 are all part of a network of fake news websites specializing in celebrity death hoaxes. We dubbed it the "dash" or "The Editor" network because many of the domain names it uses have dashes in them and they used to be promoted via a Facebook page (now defunct) named "The Editor".
Want to inform others about the accuracy of this story?


Click this link to copy it to your clipboard
Then click here if you have Facebook or click here if you have Twitter to see who is sharing it (it might even be your friends...) and leave the link in the comments.