Hoax Alert
Fake News: WWE NOT Sold To Walt Disney Company For $5 Billion; Vince McMahon Did NOT Confirm
Was World Wrestling Entertainment (WWE) sold to the Walt Disney Company for $5 billion and did chairman Vince McMahon confirm the news? No, that was an April Fools' Day joke from a wrestling news website which is still going viral two days later.
The story appeared on April 1, 2018 on Wrestling News Source and was titled "WWE Sold To Walt Disney Company For $5 Billion; Vince McMahon Confirms" (archived here). It opened:
WWE has been sold for approximately $5 billion to Walt Disney Company ahead of the company's biggest event WrestleMania 34 next weekend. WWE Chairman Vince McMahon confirmed the sale of World Wrestling Entertainment to The Associated Press on Sunday.

Vince McMahon will stay on to run the WWE, which has grown into a highly successful global entertainment brand over the last 30 years under his leadership.

"No other entertainment company compares to WWE," McMahon said in a statement that stated he would keep his current role. "Our goal has always been to put on the biggest and the best sports entertainment for our fans and to make this one of the biggest entertainment brands in the world. I'm looking forward to working with Walt Disney Co to take WWE into a new era."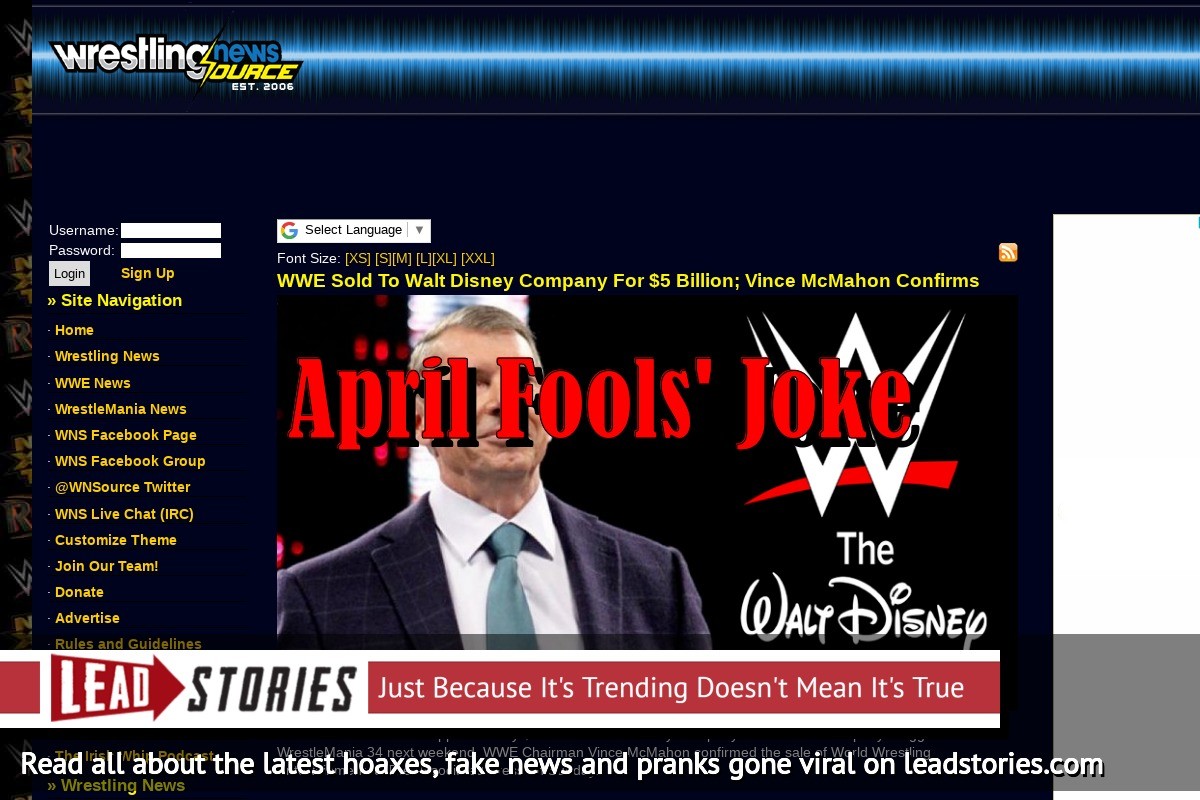 It also provided a link near the end of the article that supposedly went to a full statement from the WWE but readers who clicked it were greeted with following message:
Gotcha, APRIL FOOLS!

Thank you for your loyal support to WrestlingNewsSource.com, we hoped you enjoyed this April fools. It was really hard for us to top our 2017 April Fools in which we reported that Roman Reigns had been pulled from WrestleMania...that one really snowballed (maybe this will!).

Talking of WrestleMania, we're just 1 week away and things on the website are going to get a whole lot busier at WNS. We recommend you follow us on all our social media to get all the latest news first!

- Facebook.com/WrestlingNewsSource
- Twitter.com/WNSource
- Instagram.com/WrestlingNewsSource
It does look like this joke massively outperformed last year's one. According to BuzzSumo the joke about Roman Reigns being pulled got only 9 likes on Facebook and about 75 shares on Twitter. The 2018 joke got over 85,000 engagements on Facebook so far and is still gaining hundreds more each hour even days after it was published.
It may have had something to do with how the message looked on social media: it all seems quite convincing and appears to be a regular news article:
WWE has been sold for approximately $5 billion to Walt Disney Company ahead of the company's biggest event WrestleMania 34 next weekend. WWE [...]
As long as you don't look too closely at the date of course...
Want to inform others about the accuracy of this story?


Click this link to copy it to your clipboard
Then click here if you have Facebook or click here if you have Twitter to see who is sharing it (it might even be your friends...) and leave the link in the comments.