Hoax Alert
Fake News: Rotten Tomatoes Did NOT Introduce New Negative Scores For Faith-Based Films
Did movie review site Rotten Tomatoes introduce a new negative scoring system to rate especially bad Christian movies? Nope, that's not true: the fake story was intended as a piece of satire and the news is not real.
It appeared on The Babylon Bee on April 5, 2018 underd the headline "Rotten Tomatoes Introduces New Negative Scores For Faith-Based Films" (archived here) and opened:
U.S.--Shortly after the release of God's Not Dead: A Light in the Darkness, popular review aggregator Rotten Tomatoes announced it would now be allowing negative scores exclusively for faith-based films.

Well-reviewed films will continue to receive a "fresh" rating, while films with lots of negative reviews will continue to receive a "rotten" rating, and aggressively bad faith-based films will now receive the site's new "putrid pile of festering garbage" rating.
The story said the minimum possible score was now -382% and that the 2018 movie "God's Not Dead" was the first to receive such a rating.
A quick check of the actual rating of the movie on Rotten Tomatoes reveals the truth: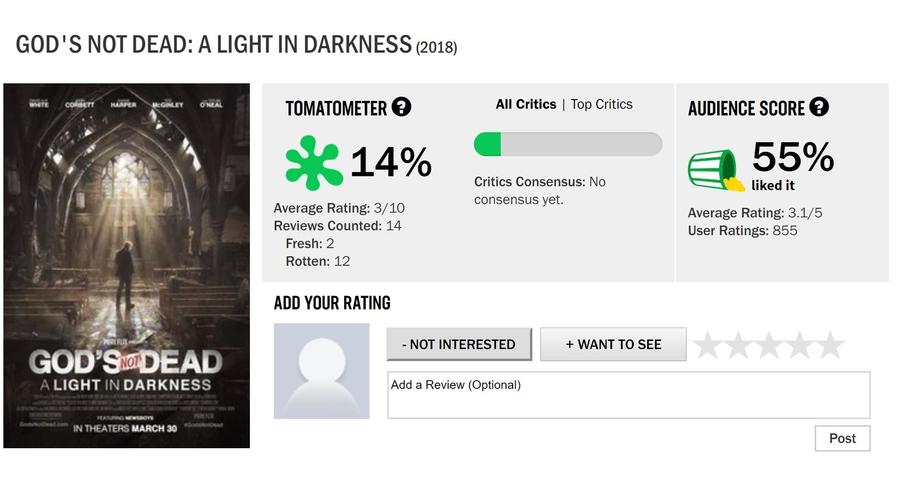 Several people clearly think the movie stinks but the review system does not allow negative ratings.
Which shouldn't be too surprising as The Babylon Bee comes with following dislaimer on every page:
The Babylon Bee is Your Trusted Source For Christian News Satire.
Some of their greatest past hits include:
With a track record like that it is clear that you shouldn't take anything posted on the site seriously and you definitely shouldn't confuse it with real news. We wrote about babylonbee.com before, here are our most recent articles that mention the site:
Want to inform others about the accuracy of this story?


Click this link to copy it to your clipboard
Then click here if you have Facebook or click here if you have Twitter to see who is sharing it (it might even be your friends...) and leave the link in the comments.