Hoax Alert
Fake News: 19-year-old Super Eagles' Goalkeeper Did NOT Celebrates Son's 17th Birthday
Did the goalkeeper of Nigeria's national soccer team, Francis Uzoho, congratulate his son on his 17th birthday while he himself is only 19 years old? No, that's not true: a story that claimed he did so in a now deleted Facebook post originated on a satire website. It is obviously not true.
The story originated from an article published by [email protected] on June 18, 2018 titled "19-year old Super Eagles' Goalkeeper celebrates son's 17th Birthday - [email protected]" (archived here) which opened:
Nigeria's goalkeeper Francis Uzoho who is 19 years of age is celebrating his second son's 17th birthday today, according to his Facebook post.

In a Facebook post that was immediately deleted, Francis showered words of praises on his son Michael. He posted:

"Wow my second son Michael is 17 today. I seek for God's blessings for him. Daddy loves you boy".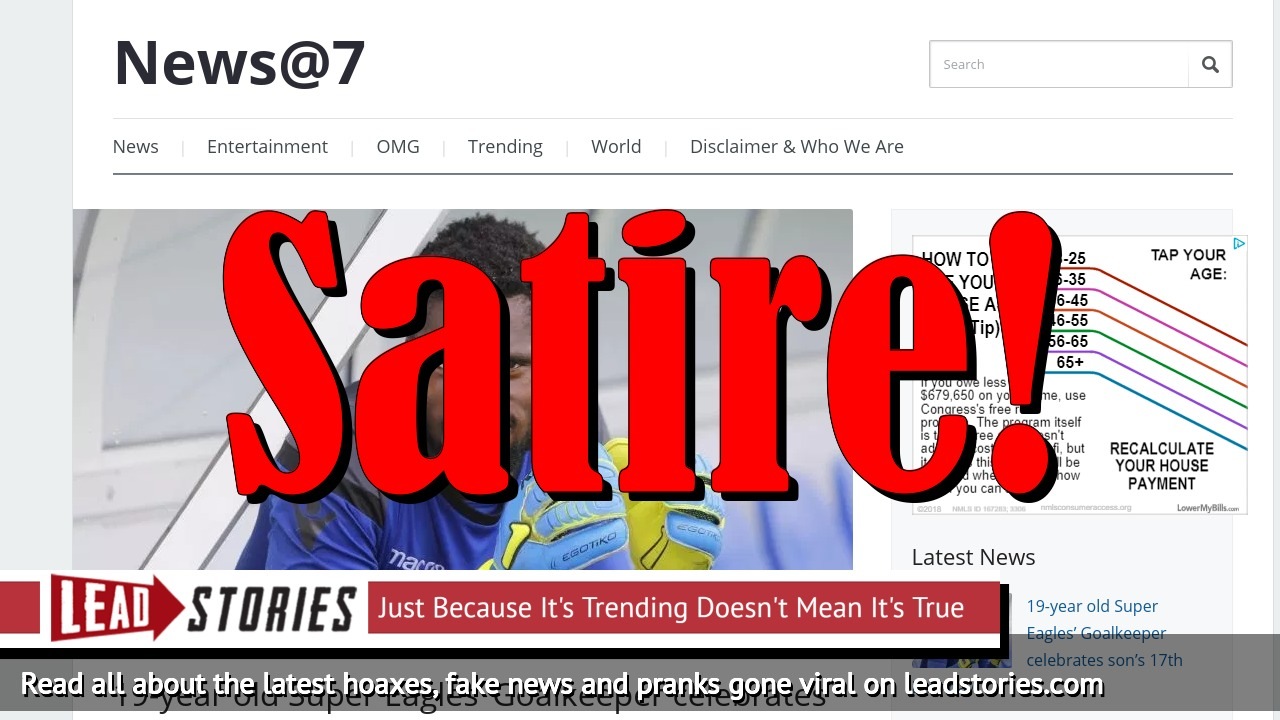 Users on social media only saw this title, description and thumbnail:
Older son is older than the father
We were unable to locate any mention of a Facebook post with the words "Wow my second son Michael is 17 today. I seek for God's blessings for him. Daddy loves you boy" and the only article online that has them was the [email protected] post. So it is unclear how the claim that "social Media users are still pouring in their birthday wishes" could be true.
[email protected] comes with a satire disclaimer at the bottom of the page so it seems pretty obvious the whole story is just a joke:
Your Attention Needed
sat·ire ~ˈsaˌtī(ə)r
noun
the use of humor, irony, exaggeration, OR ridicule to expose and criticize people's stupidity or vices, particularly in the context of contemporary politics and other topical issues.
If you disagree with the definition of satire or have decided it is synonymous with "comedy," you should really just move along.
We wrote about news7pm.com before, here are our most recent articles that mention the site:
Want to inform others about the accuracy of this story?


Click this link to copy it to your clipboard
Then click here if you have Facebook or click here if you have Twitter to see who is sharing it (it might even be your friends...) and leave the link in the comments.