Hoax Alert
Fake News: Trump Did NOT Say White House Is No Place for Lying Lowlife from Reality Show
Did President Donald Trump say "the White House is no place for a lying lowlife from a reality show"? No, that's not exactly true: the story was made up by a satire column in The New Yorker. Trump did call Omarosa Manigault a "lowlife" earlier but everything else is made up.
The story originated from an article published in The New Yorker on August 13, 2018 titled "Trump Says White House Is No Place for Lying Lowlife from Reality Show" (archived here) which opened:
BEDMINSTER, New Jersey (The Borowitz Report)--Blasting his former colleague Omarosa Manigault, Donald J. Trump said on Monday that "the White House is no place for a lying lowlife from a reality show."

"People were impressed by Omarosa because they saw her on a TV show," Trump told reporters from his golf course in Bedminster, New Jersey. "Well, I've got news for you: being on a reality show does not qualify you to work in the government."

Explaining why he considered her a "lowlife," Trump said, "She's rude, abrasive, and offensive. Having someone like that in the White House is an embarrassment to our country."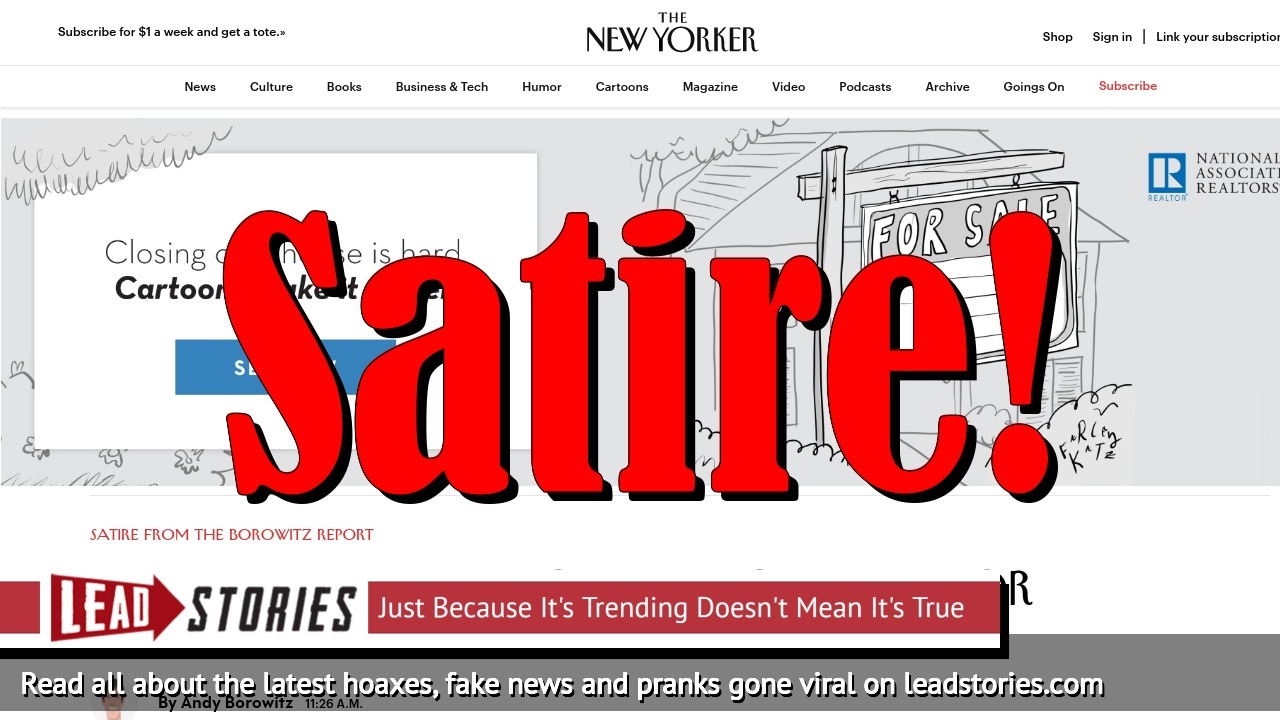 Users on social media only saw this title, description and thumbnail:
"Being on a TV show does not qualify you to work in the government," the President told reporters.
The story actually appeared in the satire column of The New Yorker ("The Borowitz Report" by Andy Borowitz) which was acquired in 2012 by the magazine. Although the section with the columns and all the articles in it are clearly marked as satire the stories frequently get confused for real news by people who only see the title and summary on social media and who assume it must be real because the link goes to the actual website of The New Yorker. To them it would look somewhat like this, with an easy to miss "Not the news" being the only indication it is not real:
In part to combat this the main page of The Borowitz Report comes with a clear heading that simply states:
Satire from the Borowitz Report
To be safe, whenever you see a link that goes to any article on the "newyorker.com" website, always check if the rest of the link says "/humor/borowitz-report/" somewhere. If it does, don't believe a thing you read...
We wrote about newyorker.com before, here are our most recent articles that mention the site:
Want to inform others about the accuracy of this story?


Click this link to copy it to your clipboard
Then click here if you have Facebook or click here if you have Twitter to see who is sharing it (it might even be your friends...) and leave the link in the comments.