Hoax Alert
Fake News: 5,000 People Did NOT Dump Shoes In Front Of Nike Headquarters
Did nearly 5,000 people dump old shoes in front of Nike's headquarters to demonstrate against the brand hiring Coin Kaepernick for one of their ad campaigns? No, that's not true: the story was made up by a liberal satire website that loves to create fictional stories guaranteed to please republicans and Trump supporters. The aim of the site is to get them to share this fake news so fans of the site can then mock them for it online. The protest is not real, it did not happen, and the local news source that supposedly reported it, The Beaverton Gazette, does not exist.
The story originated from an article published by America's Last Line of Defense on September 11, 2018 titled "BREAKING: 5,000 People Dump Shoes In Front Of Nike Headquarters" (archived here) which opened:
Nike has been making Americans really mad by hiring football washout Colin Kaepernick to be the face of their "Just Do It" campaign. But we doubt anyone expected Americans to be this furious with the shoe company.

On Monday, around 4,997 people showed up to Nike headquarters in Beaverton, Oregon to dump their products at the un-American company's doorstep. The Beaverton Gazette reports:

"Approximately 5,000 people came to Nike world headquarters to dispose of their shoes - a protest apparently spurred by the company's decision to hire former 49ers quarterback Colin Kaepernick for their 2018 Just Do It ad campaign."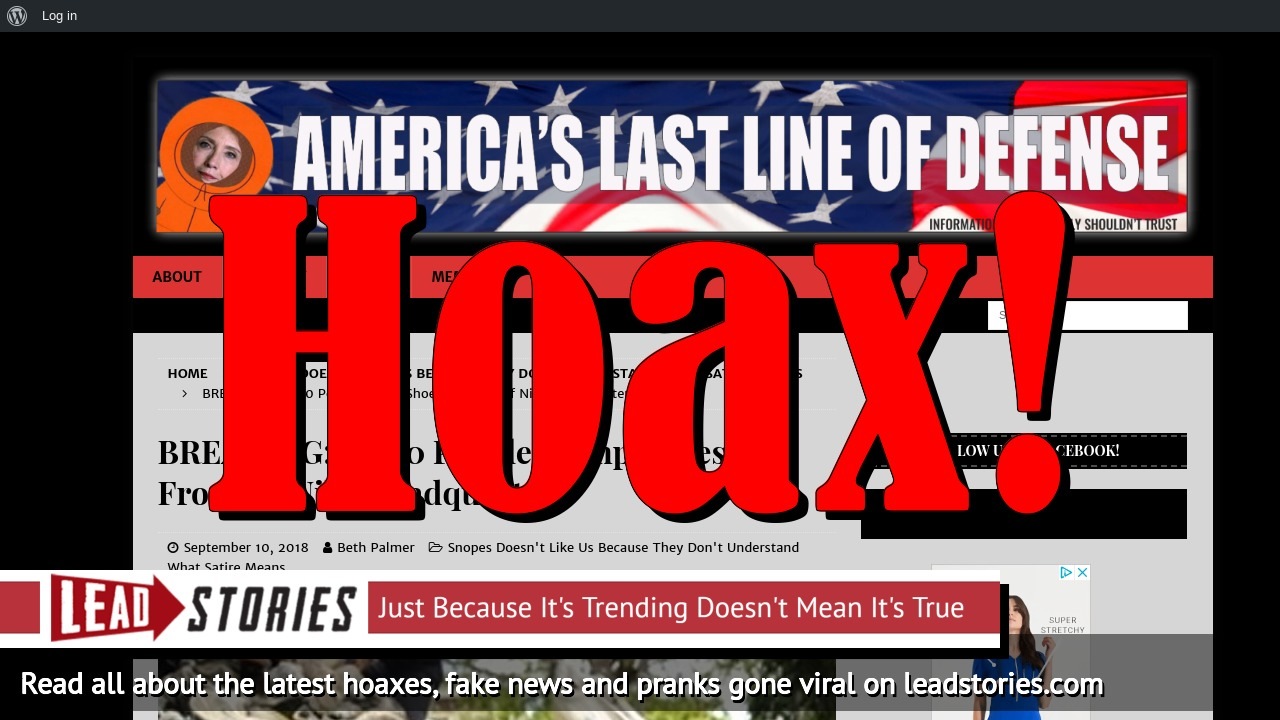 Users on social media only saw this title, description and thumbnail:
Nike has been making Americans really mad by hiring football washout Colin Kaepernick to be the face of their "Just Do It" campaign. But we doubt anyone expected Americans to be this furious with the shoe
The image illustrating the story already appeared back in 2009 in a story about a shoe recycling program run by Nike:
Honolulu Hawaii News - HonoluluAdvertiser.com is the home page of Honolulu Hawaii with in depth and updated Honolulu local news. Stay informed with both Honolulu Hawaii news as well as headlines and stories from around the world.
The site that initially published the hoax comes with a clear satire disclaimer at the bottom of each article:
sat·ire ~ˈsaˌtī(ə)r
noun
the use of humor, irony, exaggeration, OR ridicule to expose and criticize people's stupidity or vices, particularly in the context of contemporary politics and other topical issues.
If you disagree with the definition of satire or have decided it is synonymous with "comedy," you should really just move along.
The owner and main writer of the site is self-professed liberal troll Christopher Blair, a man from Maine who has made it his full time job to troll gullible conservatives and Trump supporters into liking and sharing his articles. He runs several other websites, including potatriotpost.us, dailyworldupdate.us and nofakenewsonline.us. Sometimes he is also known under his nickname "Busta Troll". A second man working on the sites is John Prager as revealed in this earlier story we wrote.
Articles from Blair's sites frequently get copied by "real" fake news sites who often omit the satire disclaimer and any other hints the stories are fake. Blair has tried to get these sites shut down in the past but new ones keep cropping up and he keeps knocking them down.
If you see one of his stories on a site that does not contain a satire disclaimer, assume it is fake news. If you do see the satire disclaimer it is of course also fake news.
NewsGuard, a company that uses trained journalist to rank the reliability of websites, describes trumpbetrayed.us as:
A website claiming to be satirical that publishes fabricated stories, run by Christopher Blair, a known purveyor of disinformation, that published fake stories about Senator John McCain after he passed away.
According to NewsGuard the site does not maintain basic standards of accuracy and accountability. Read their full assessment here.
We wrote about trumpbetrayed.us before, here are our most recent articles that mention the site:
Want to inform others about the accuracy of this story?


Click this link to copy it to your clipboard
Then click here if you have Facebook or click here if you have Twitter to see who is sharing it (it might even be your friends...) and leave the link in the comments.