Hoax Alert
Proof Of Life: Ruth Bader Ginsburg Confirms She's "Very Much Alive," Disproving QAnon Conspiracy Theory
Is Ruth Bader Ginsburg dead and are recordings being faked to hide the U.S. Supreme Court justice's death to prevent President Trump from having another high court appointment? No, that's not true: The 86-year-old Ginsburg appeared on camera on Tuesday, July 23, 2019, with NPR host Nina Totenberg for an interview in which she confirmed she is not dead, despite several serious health crises.
The claim that Ginsburg, whose liberal vote is crucial to blocking conservative domination of the Supreme Court, died after her last cancer fight has been promoted by conspiracy groups such as the notorious QAnon, including in a post (archived here) published on July 21, 2019. The post titled "Is she alive? Is she dead? Alright, it's time we get an official "Proof of life"... this is getting ridiculous..." included a QAnon tweet that linked to a story about how Ginsburg's accent during court hearings has evolved over decades:
Look! #FakeNews getting ahead of revelations that RBG's recent recorded arguments, used as proof of capacity to serve, were faked. Q showed us the strange blips n the recordings. Where is Ruth, why are there many weird recycled sightings, and what's going on?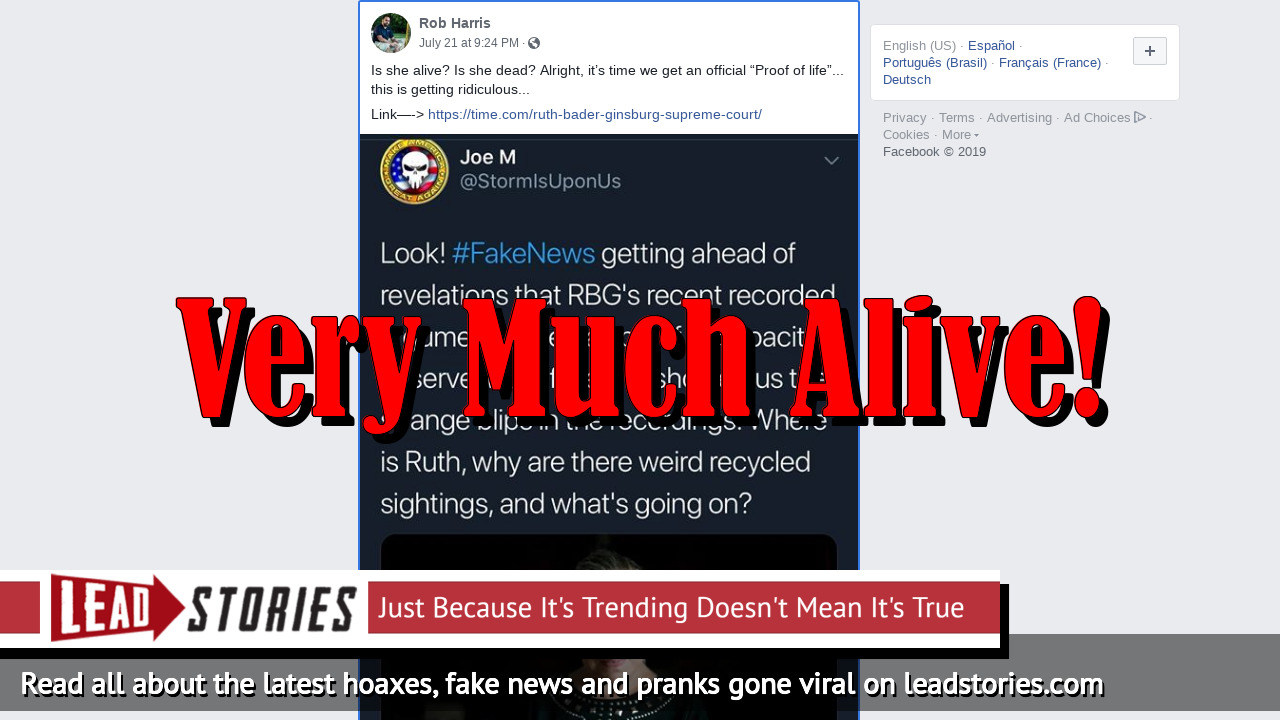 This is the tweet from "Joe M," who purports to pass along messages from Q to followers:
Look! #FakeNews getting ahead of revelations that RBG's recent recorded arguments, used as proof of capacity to serve, were faked. Q showed us the strange blips in the recordings. Where is Ruth, why are there weird recycled sightings, and what's going on? https://t.co/74K8T9PwIV

-- Joe M (@StormIsUponUs) July 22, 2019
Joe M linked to a Time.com article titled "How Ruth Bader Ginsburg Found Her Voice," which his tweet implied was an attempt by the "Fake News" media to squash "revelations" that her participation in recent court hearings has been faked. Along with digitial atlerations in the official audio recordings of the court, a "crisis actor" allegedly was cast to portray Ginsberg so that people in the court room would not notice Ginsburg was not alive, the theory claimed. Other claims have included photos of Ginsburg that indicates she is not human, but a robot.
The Time.com article is based on the work of NYU linguistics professor emeritus John Victor Singler and other researchers who studied hours of Ginsburg's remarks during court hearings dating back to the 1970s. They concluded that the earlier hearings, when she was a much younger lawyer making arguments to the all-male, older justices, her native New York accent was less noticable. Recent recordings from when she was a senior member of the court and more comfortable reveal more of a Brooklyn accent. The researchers did not doubt it was still Ginsburg speaking, but they observed her circumstances had changed the way she spoke:
Their theory, reported here for the first time, is that "conscious or not," the lawyer was doing something everyone does, what is known in linguistics as accommodation: adapting our ways of communicating depending on who we're talking to. Accommodating can be done through word choice, pronunciation, even gestures. A common example would be when someone returns to the town where they grew up and their accent comes roaring back as they talk to friends and family who sound that way, too.
QAnon has demanded "proof of life." The NPR interview delivers just that as Ginsburg references recent events before declaring that she is "very much alive."
"There was a senator, I think it was after my pancreatic cancer, who announced with great glee that I was going to be dead within six months. That senator, whose name I have forgotten, is now himself dead, and I am very much alive."
See the video for yourself here. There is not indication of digital alterations by Deep State forces trying to prevent Ginsburg's replacement:
It is important to understand QAnon and the motivation behind its conspiracy theories. There is a global war under way between the very wealthy against the rest of the world population, according to the theory. These wealthy villains use a Deep State organization to control the world. There is purportedly a group of "good guys" who still control the National Security Agency, the intelligence-gathering arm of the U.S. Department of Defense. The good guys supposedly created QAnon as their way of communicating to followers. QAnon claims the last four American presidents -- Clinton, both Bushes, and Obama -- were Deep State puppets, but that President Donald Trump was elected as the savior to destroy this wealthy cabal and return control of the world to the people. They call Trump's movement "The Great Awakening."
Lead Stories debunked another recent QAnon theory in an article titled "Fake News: Blackouts In Major Cities Are NOT Likely White Hat EMP Attacks In Wake Of Epstein Arrest."
Want to inform others about the accuracy of this story?


Click this link to copy it to your clipboard
Then click here if you have Facebook or click here if you have Twitter to see who is sharing it (it might even be your friends...) and leave the link in the comments.