STORY UPDATED: check for updates below.
Did Clint Eastwood recently die? No, that is not true: It is a celebrity death hoax. The "Dirty Harry" actor is alive and well as of September 1, 2019, contrary to a YouTube video that was viewed at least 80,000 times in the first three days after it was posted on August 28, 2019.
The celebrity death hoax originated from a video (archived here) posted by a week-old YouTube account that appears to be based in the Philippines under the title "R.I.P. Clint Eastwood 1930 -2019". The short video featured a montage of photos of Eastwood with text that read:
Clint Eastwood was born in 1930

Rest in peace

1930-2019

Clint Eastwood

CNN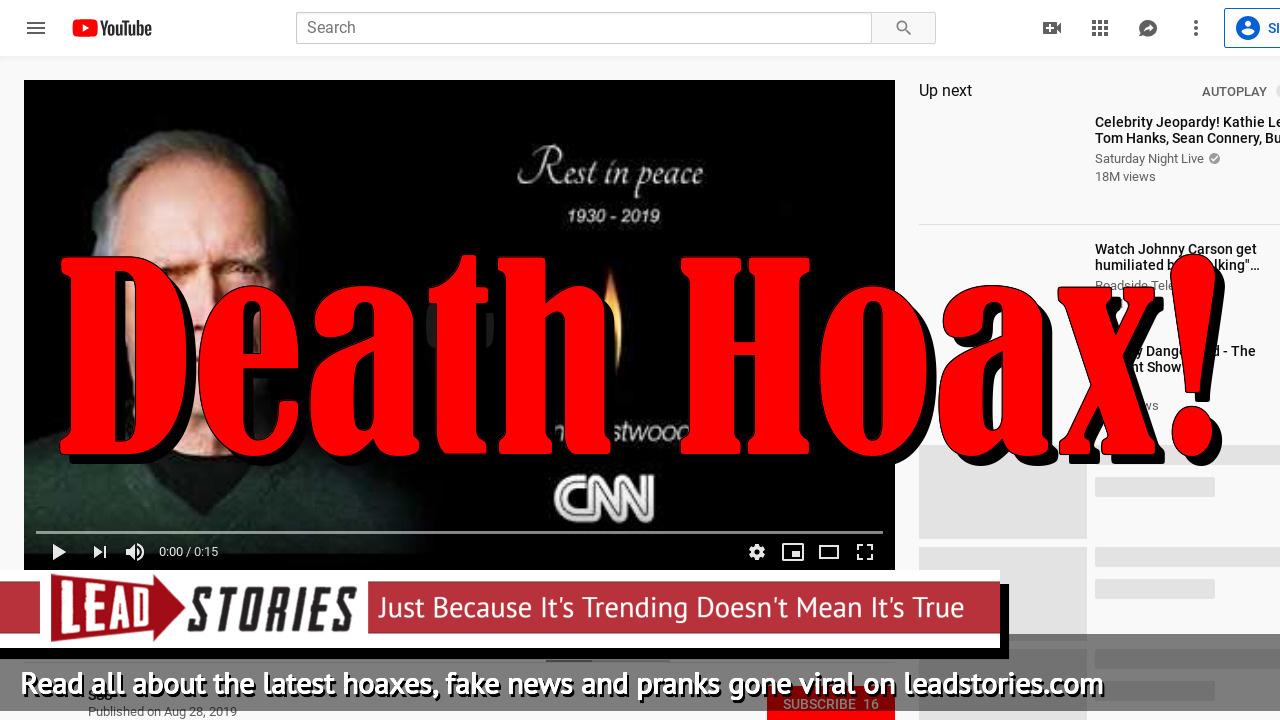 The same YouTube account posted videos claiming that former U.S. President Barack Obama was in critical condition in a hospital and that actor Tom Cruise was killed while filming a stunt on a movie set.
The death hoax was spread through quite sophisticated technical means reminiscent of an earlier hoax from two years ago a later analysis by Lead Stories revealed:
Earlier this week Lead Stories already reported that Clint Eastwood was NOT dead, despite what a YouTube video was claiming: Hoax Alert Did Clint Eastwood recently die? No, that is not true: It is a celebrity death hoax.
We wrote about youtube.com before, here are our most recent articles that mention the site:
Updates:
: Added link to technical analysis of the hoax
Want to inform others about the accuracy of this story?


Click this link to copy it to your clipboard
Then click here if you have Facebook or click here if you have Twitter to see who is sharing it (it might even be your friends...) and leave the link in the comments.