Hoax Alert
Fake News: Richard Dawkins Did NOT Join Cast of Love Island
Will Richard Dawkins participate in the dating show Love Island? No, that's not true: the story was made up by a satirical website, is is not real.
The story appeared an article published by The Daily Mash on May 30, 2018 titled "Richard Dawkins joins cast of Love Island" (archived here) which opened:
RICHARD Dawkins will take part in the new series of Love Island, it has emerged.

The former Oxford professor and strident atheist will attempt to win £50,000 as a contestant on the dating show, where he plans to woo bikini-clad women with swingeing critiques of intelligent design and creationism.

An ITV spokesman said: "Richard loves the show, because what could be more Darwinian than a weekly public vote based on how fit you are.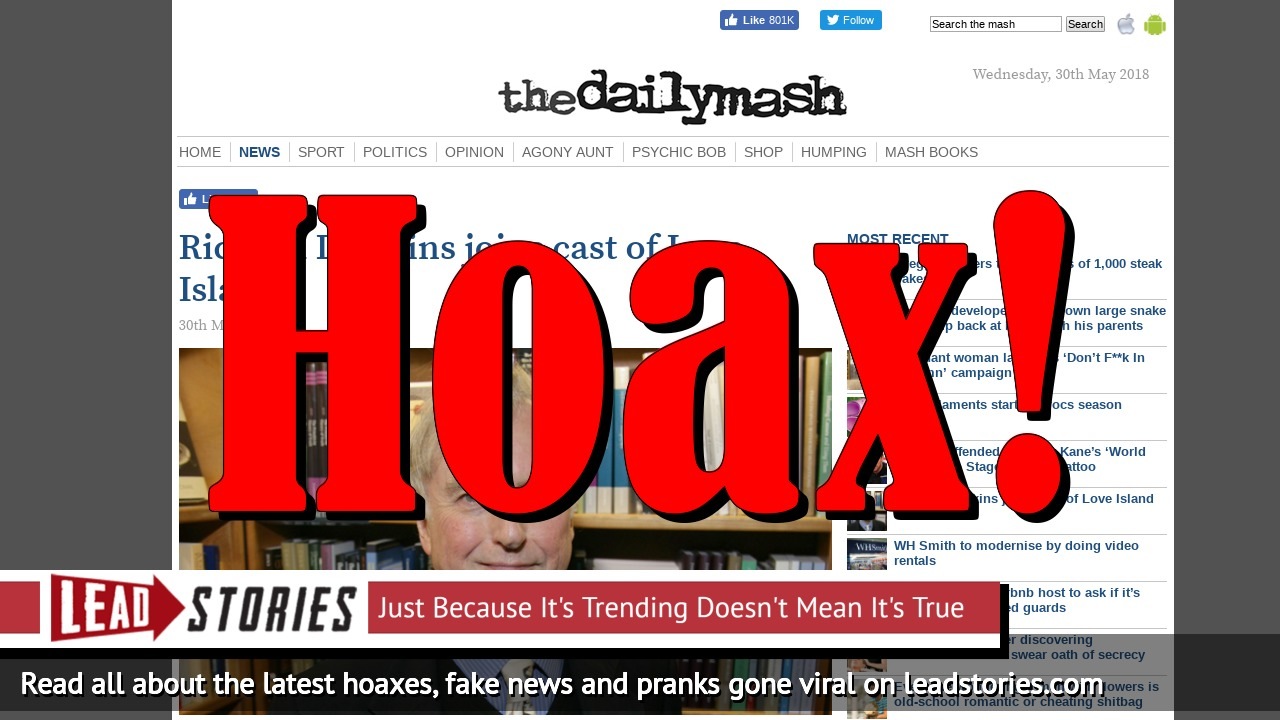 Users on social media only saw this title, description and thumbnail:
RICHARD Dawkins will take part in the new series of Love Island, it has emerged.
In reality Dawkins' name does not appear on the site listing the contestants of the show which will be aired on ITV starting June 4, 2018:
Caroline Flack is preparing for one big loved-up summer as she sends a host of sexy singles off into the sunshine for the holiday of a lifetime.
That, and The Daily Mash is a satirical website from the U.K. which sports following disclaimer on its about page:
About the Daily Mash

The Daily Mash is a satirical website which publishes spoof articles, i.e. it is all made-up and is not intended, in any way whatsoever, to be taken as factual. Glad we've got that sorted.
Their articles are generally quite funny but now and then they get interpreted as real news.
We wrote about thedailymash.co.uk before, here are our most recent articles that mention the site:
Want to inform others about the accuracy of this story?


Click this link to copy it to your clipboard
Then click here if you have Facebook or click here if you have Twitter to see who is sharing it (it might even be your friends...) and leave the link in the comments.