Hoax Alert
Fake News: Jeremy Corbyn Did NOT Lay Wreath for Hans Gruber Outside Nakatomi Plaza
Did U.K. Labour leader Jeremy Corbyn put down a wreath honoring dead terrorists on Nakatomi Plaza in Los Angeles? No, of course not. That claim was made by a satirical website mocking the recent controversy about Corbyn laying a wreath or attending a ceremony for Palestinian terrorists. The terrorists and the terror incident mentioned in the article are fictional: they come from a movie. Don't fall for it.
The story originated from an article published by NewsThump on August 14, 2018 titled "Jeremy Corbyn laid wreath for Hans Gruber outside Nakatomi Plaza" (archived here) which opened:
Jeremy Corbyn caused huge controversy last night, as pictures emerged of him laying a wreath for terrorists associated with the 1988 Christmas Eve incident at Nakatomi Plaza.

Mastermind Hans Gruber was described by Corbyn as "a decent guy" before he called for action to be taken against John McClane, the police officer who took on the terrorists alone during the incident.

Corbyn was in Los Angeles as part of a wider trip in search of peace in the region and was invited to the ceremony by supporters of Gruber and his family.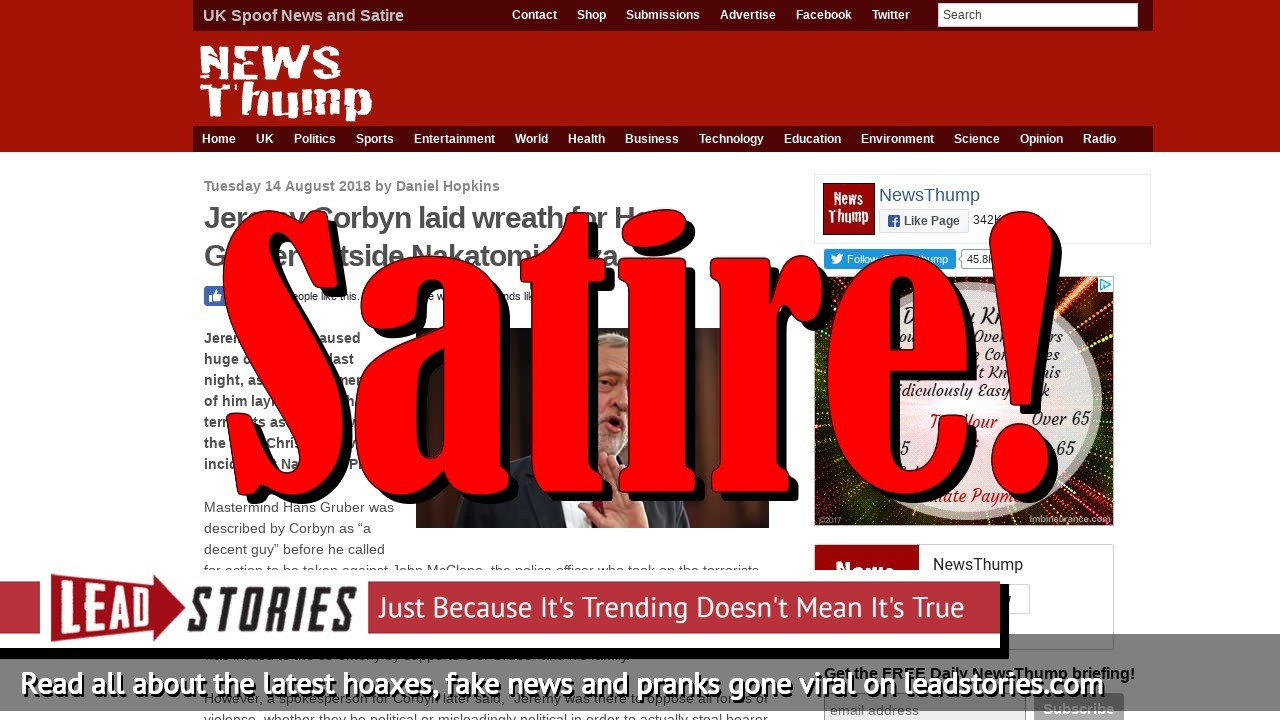 Users on social media only saw this title, description and thumbnail and they might have thought it was a real story about a real incident:
Jeremy Corbyn caused huge controversy last night, as pictures emerged of him laying a wreath for terrorists associated with the 1988 Christmas Eve incident at Nakatomi Plaza.
Corbyn was indeed involved in a controversy about him being present at a wreath-laying ceremony but it was for different terrorists entirely.
Jeremy Corbyn has said he was present but not involved at a wreath-laying ceremony for members of the group that carried out the Munich Olympics massacre, who were killed in Paris in 1992.
The terrorist Hans Gruber and his attack on a building on Nakatomi Plaza in L.A. are fictional: they appear in the 1988 movie "Die Hard" starring Bruce Willis:
Directed by John McTiernan. With Bruce Willis, Alan Rickman, Bonnie Bedelia, Reginald VelJohnson. John McClane, officer of the NYPD, tries to save his wife Holly Gennaro and several others that were taken hostage by German terrorist Hans Gruber during a Christmas party at the Nakatomi Plaza in Los Angeles.
NewsThump comes with an about page that explains what is going on:
Welcome to NewsThump! No, really, we mean it.

Honest.

NewsThump is a satirical and spoof news website, taking a daily swipe at current affairs from the UK and around the world. It is published and owned by Thump Publishing Limited.

We aim to be equal opportunity piss-takers and have no particular affiliation or political preference. It is our stated aim to mock absolutely everyone, eventually.

We are not afraid to skip a few steps like checking facts or corroborating sources, and we never let the truth ruin a funny story (it's much easier just to make everything up). So, for clarification - If you read a story on here, then you are NOT supposed to believe it. It has been completely made up purely for entertainment purposes. It's also worth noting that we regularly use rude words and stuff, so you need to be 18 to be reading this. All images are courtesy of iStockphotos/Getty and are used for illustrative purposes only, and anyone depicted is a model.
We wrote about newsthump.com before, here are our most recent articles that mention the site:
Want to inform others about the accuracy of this story?


Click this link to copy it to your clipboard
Then click here if you have Facebook or click here if you have Twitter to see who is sharing it (it might even be your friends...) and leave the link in the comments.